Now, I would like to explain briefly what and how Taikomochi perform for entertainment of guests at banquets like Ozashiki Asobi. When requested by any one of his clients for entertainment of his guests at a banquet with Geisha and/or Maiko in attendance (namely, Ozashiki) in a Japanese traditional tatami-matted saloon of Ochaya or other similar facility like a restaurant, inn or hotel, Taikomochi responds to the request of the client to attend the banquet to create an atmosphere for the entertainment by acting as an intermediary between the guests, between the guests and Geisha/Maiko and between Geisha/Maiko, while filling the intervals of the entertainment so as to help or assist (translated as hou in Japanese) in the development of the relationship among (translated as ma or kan in Japanese) those present at the banquet, causing Taikomochi to be formally referred to as Houkan.
During the Eodo period (1603 to 11868) when the bushi (military) class was established to rule Japan as its central government, Houkan or Taikomochi played a central role in entertainment including its planning and implementation. At present, however, the times have changed, not demanding any such roles from Taikomochi, the number of whom has also sharply declined. I, as Taikomochi, have now focused my job on giving my clients instruction about the basics of Ozashiki Asobi and giving lectures at various events, if requested, to let as many people as possible know the history and culture of this Japanese tradition, while responding to requests from my clients for entertainment at banquets by my erotic, but witty, storytelling art. When I introduce myself as Taikomochi or Otoko (male) geisha to those present on these occasions, I always find only few understand this traditional art before explaining them what it is all about.
You may be interested in knowing the reason why Taikomochi have trained themselves in erotic storytelling and performing arts for entertaining purposes. Japan, except in recent years, has long been an agricultural country focusing on rice cultivation with food security as its people's most important concern because of their failure to carry out farm work according to the seasons meaning their resultant failure to pass through the winter with food running out.
The food, if derived from vegetables, is obtained as a result of their flowering with pollens from the anthers transferred to the stigma to produce fruits and if derived from animals, is multiplied by coupling between their male and female counterparts. Therefore, Japanese people in ancient times considered these vegetables' and animals' activities as the most beautiful and important to allow them to secure food and obtain food sources for the following year and transfer them to their next generation, thereby stabilizing their living and contributing to the prosperity of their descendants; they thought such erotic activities to lead to their happiness.
In ancient Japan, where people in each community worked hard together in a decent and serious manner on usual days, they had holidays on rare occasions to felicitate their temporality finished farm work together in the community. On such occasions, they released their usual decency and seriousness and entertained themselves, while eating delicious food and drinking to gain strength for their farm work starting the next day in what originated as Enkai (banquet). In enkai, they were allowed to enjoy erotic storytelling and performing arts presented as the profession, which has been handed down from generation to generation as Taikomochi. The above suggests that this traditional performing art is rather what is behind the Japanese traditional culture, representing the real and true intention of Japanese people. Therefore, this tradition might have not been protected publicly as part of the Japanese culture, but transmitted through successive generations as a form of entertaining and performing art displayed only in a confined space like Ozashiki.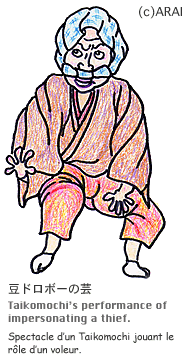 When we talk about "entertainment" in the perspective of Japanese culture, it includes not only the concept of entertaining or amusing oneself by doing what he or she likes to do according to his or her free will, taste or interest, but also the concept of disporting oneself in a fabricated world not different from reality, as well as the concept of studying certain art for its mastery, such as the art of tea ceremony or the art of flower arrangement, to entertain or amuse oneself by pursuing studies into the mysteries of such art on a step-by-step basis even though failing to master it.
The art of tea ceremony or the art of flower arrangement as a representative embodiment of the Japanese traditional culture is based on one component of ideas behind Buddhist culture ­ "Aware" (human feeling and emotion toward ephemerality of living things including humans that are destined to die although they are aware and appreciative of their life by making their best efforts to live as hard as possible to the best of their ability) to appreciate the ephemeral beauty of life and nature expressed in the art.
The performing art of Taikomochi is also based on such philosophical ideas of the Japanese culture cultivated over a long period of time, developing into an entertaining art figuratively representing Japan's history and culture. Taikomochi equipped with such an art can entertain customers by their erotic, but refined and sophisticated storytelling techniques to allow them to forget their usual works and entertain themselves to their hearts' contents.
I have occasionally noticed Taikomochi mistaken for Otokoshi, the role of whom is to help Maiko wear their kimono and accompany them on occasions such as "Omisedashi" where they make their debut at Ozashiki and "Erikae" (collar change) where they complete their apprenticeship to become Geiko (with the collar of their under-kimono changed in color from red to white) to assist them in paying courtesy visits to their patrons. Otokoshi, who serve as assistants for Maiko and are not allowed to sit at Ozashiki with them, are completely different from Taikomochi.