.
Successfully suppressing a series of civil wars waged after the death of Hideyoshi, Tokugawa Ieyasu (1542-1616) unified the country as the head of the military (samurai or bushi) class, establishing the warrior government, Tokugawa Shogunate, in the town of Edo (now Tokyo) in 1603, which lasted until 1867 with the political center of the country shifted from Kamigata (now the Koto-Osaka area) to Edo. However, the nation's culture remained centered around Heiankyo (literally meaning "Capital of Peace and Tranquility") (now Kyoto) chosen by Emperor Kammu, the 50th sovereign of Japan, as its capital in 794, since which time the subsequent emperors and peers had resided in the Kyoto area.
In 1603, Izumo-no-Okuni, alleged to be a shrine maiden from Izumo Shrine (a Shinto shrine located in Shimane Prefecture, dating from the 8th century), getting a hint from "Nembutsu Odori" (reciting the name of the Buddha while dancing) of "JI Sect of Pure Land Buddhism", performed an unusual and showy on the Kyoto's Shijo-Gawara street, which is regarded as the prototype of the present Kabuki theater. In the meantime, Otogishu and Hanashishu employed by daimyo (feudal lords) as their attendants underwent functional change in a peaceful period from advisers to entertainers, causing them to perform activities in Kyoto to gather such information as to amuse and entertain their masters. Some Otogishu or Hanashishu turned into commoners, finding their positions in pleasure quarters where, together with Yujo (courtesans highly educated and well versed in culture and art),they entertained their high-class wealthy patrons, as introduced in a collection of more than 1,000 brief comic stories compiled under the title of "Seisuisho" by Anrakuan Sakuden (1554-1642), the 55th chief priest of Seiganji Temple, who is alleged to be the originator of Rakugo (comic storytelling) or Taikomochi.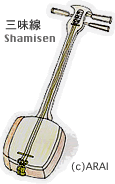 Early in the Edo period (1603-1868), the entertainment quarters saw introduction of shamisen (traditional three-stringed musical instrument) culture, causing some Yujo to turn into Geisha (actually called "female" Geisha in those days to distinguish them from Taikomochi (Houkan) then referred to as Geisha, although the other way round is the case at present with Taikomochi specified as "male" Geisha).
Edo (now Tokyo) was only a small village until it was selected as the seat of the Tokugawa Shogunate (1603-1867), which required it to be rebuilt as the center of the military administration with residences for local daimyo (feudal lords), causing many male laborers to gather from across the nation for its rebuilding. This, in turn, created increased demand for Yujo and Taikmochi to entertain these laborers. In the meantime, many successful merchants appeared, gaining large profits from their businesses in this town rapidly developing into the leading city. These merchants entertained themselves with Yujo and Taikomochi by lavish money spending. Among them was Kinokuniya Bunzaemon, a lumber merchant legendary for his extravagant entertainment. Arrangements for such entertainment were allegedly planned and implemented by Taikomochi as stagehands for management of the entertainment on an overall basis, causing them in those days to be referred to as "Mukan-no-Tayu" (lord steward without office or title) equivalent to the rank of a present-day company's sales promotion manager, because Yujo and entertaining artists of the highest rank in those days were granted title "Tayu" (the fifth court rank).
.