.
When asked to think of any major Japanese traditional cultures, many of you may mention Tea Ceremony, Flower Arrangement, Kimono, Kabuki, Noh and Geisha.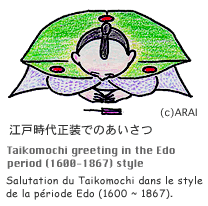 Among these Japanese traditional cultures, it is true that you are quite familiar with Tea Ceremony, Flower Arrangement and Kimono which you may experience and appreciate when invited to Japanese typical homes, and Kabuki and Noh which you can enjoy at theaters if you want to, but you may not be so much acquainted with Geisha as the above, especially when referring to them at work in Japanese traditional saloons called Ozashiki where they dance, sing and play shamisen and other traditional instruments to entertain guests at banquets while serving them sake.
Geisha is a generic name for Geigi (in the Tokyo area) or Geiko (in the Kyoto area) formally referring to professional female entertainers who are skilled in various traditional Japanese arts. Geisha who are in their apprenticeship stage are called Hangyoku (in the Tokyo area), literally meaning "half jewel" as their fees were half of those of Geisha's fees (called Gyoku-dai or Hana-dai) at one time (although both are now the same), while their counterparts in the Kyoto area are called Maiko, who are dressed in kimono designed with long sleeves and sashes, distinguishing them from Geiko. Geisha (hereinafter referring to both Geigi and Geiko collectively) and Maiko belong to gay quarters called Kagai (which literally means "flower towns") (where they entertain their guests at banquets by dancing, singing and playing, while serving them sake), each organized centering around its own Geisha's union which manages its registered member Geisha and Maiko (generally called Kenban ­ Geisha management office) by receiving requests from any member of the union of entertainment houses (Ochaya) or Japanese style restaurants (Ryoutei) organized in the quarter for arrangement of their entertainment services at the entertainment house or restaurant.
Kenban normally makes all such Geisha/Maiko arrangements for any of such Ochaya or Ryoutei through their mutual verbal contract, which means that there must be an established relationship of trust between both. Therefore, Ochaya and Ryoutei which are permitted to receive such Geisha/Maiko service from Kenban are so limited in number that their typical ones, for example, in Kyoto, which is the ancient capital of Japan and the origin of its culture, are just concentrated in five entertainment quarters ­ Gion-koubu, Gion-higashi, Kami-shichiken, Ponto-cho and Miyagawa-cho, aside from famous restaurants of traditional Japanese architectural design with room arrangement to allow each guest or group of guests to be entertained in his, her or their own room. As such being the case, you have only few chances of meeting Geisha or Maiko, except when you happen to come across them on the streets, unless you are to step in Ochaya or Ryoutei where Geisha or Maiko are actually rendering their entertainment services.
As briefly described earlier, Ochaya (which can be literally translated as "teahouse" in Japanese) is the Japanese traditional entertainment service of offering a place where Geisha and Maiko entertain guests at banquets, while managing the entertainment through female employees with Oka-a-han ("mistress") as the center of the management, whose tasks are not limited to the arrangement of Geisha and Maiko for the guests in response to their request for such arrangement, but include placement of orders for dishes for them with a caterer ("shidashi-ya") (which is a business specializing in supplying dishes to order for such banquets) and arrangements for any place requested by them as their next destination for entertainment including the advance payment of their entertainment expenses incurred at the place. This means that Ochaya is required to be capable of meeting financial obligations, not to mention of its clients' trust. Ochaya, in principal, refuses to offer its service to any new customer unless he is introduced to it by any of its steady customers.
Therefore, if anyone wants to get some experience with Ochaya, it is recommended that he get any of its patrons to take or introduce him to it, although he should take care not to cause any inconvenience to the patron such as his payment failure, for which the client is to assume responsibility.
Even if you have successfully stepped in Ochaya to entertain yourself somehow at a banquet in a Japanese traditional tatami-matted room, you may be embarrassed by the presence of Geisha and/or Maiko at the banquet without any prior experience and knowledge of such entertainment, which may be obtained through some TV programs and magazines reporting visits of state guests and celebrities to Japan while featuring their reception banquets in Ochaya in Kyoto Gion-koubu with Geisha and Maiko for entertainment, as well as through books and other publications concerning relevant matters. In some local regions other than Kyoto, there are still a few such entertainment quarters where Geisha offer similar entertainment services to guests at banquets and other similar events, providing you with opportunities to gain some experience and information of what such entertainment is all about.
.